T Chart is called a simple graphic organizer which splits the information into multiple columns. It is traditionally used to compare and contrast two or more items such as with books or book characters, scientific phenomena, or social studies events. It works with two different columns (which resembles the "T" letter).
T Chart is one of the excellent layouts that can help you for showing different comparisons. It is an excellent option to show different examples or instances, product details side-by-side. The dividing lines of the T-Chart help to separate different components.
With the help of Google Docs, you can make a T chart in an easy way. This guide teaches you "How to make a T chart in Google Docs?"
Purpose of using T chart in Google Docs
T chart is usually a tabulated form of data which is easy to compare all forms of data. This T Chart template advertises a visual representation of the entire data that helps in a clear understanding of the data and is also used to evaluate the merits and demerits of a big decision. It is more like a 2D column.
Sort the data into categories
Analyze the difference between two or more items
Demonstrate a change
Organize a data
Planning action to be listing down the various problems and solutions
After knowing the benefits and purpose of using a T chart. The next thing that comes to our mind is "When should we use a T chart in Google Docs?" Here are some situations when you should use the T chart for exemplary representations
Merits and Demerits
Effects and causes
Issues and remedies
Strength and weakness
History and present
Opinion and facts
Do's and Don'ts
Correct and incorrect
Concept and examples
Character and traits
Limitation of T chart while using in Google Docs
You can easily make and use a T chart in Google Docs. You may face the below limitation while you are working with the T charts in Google Docs.
More often they fail to evoke a more complex relationship between multiple variables
Lack of graphical tools. So sometimes a bit difficult to analyze.
Maximum time, a T chart is restricted to compare two items.
No options to use more information and it is limited.
Not much provision to represent Mathmatical calculations or formulae.
How to make a T chart in Google Docs?
Every day we come across situations in which we compare things. Well, this is exactly where the T chart takes place. Making a T chart is pretty easy, but you might require the right guidance on how to create it.
Step 1: Open Google Docs and sign in to Your account.
Step 2: Make sure that you have given a name to your document.
Step 3: Create a blank document in which you will make your chart.
Step 4: Go to insert. Under the Table -> select the table size 2*2. Then select the table you have created.
Step 5: Now you will have a small downwards triangle on the right side of the table. Just click on it.
Step 6: Then select the outline border. Go border color option -> select white color. It disappears the outline border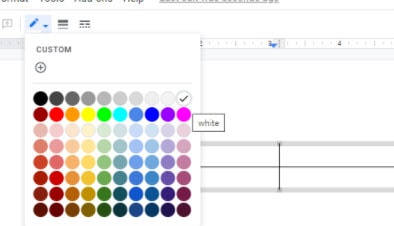 Step 7: Again select the table, this time select the inner border. And change the thickness to 3pt.
Step 8: Your T table is ready now. You can edit by giving a header to the document. The labels at top of the T chart dictate what information is placed side by side. ( like pros and cons, beforehand after, Then and Now, etc.,)
Step 9: After the header, you can easily type your word into the cells. We can also resize columns and Rows. Depending on the sizes of items within your table, you may need to adjust the size of a column or row. This is the basic way to create a T chart in Google Docs.
Example of T Chart in Google Docs
You know that with the help of a T chart each of the situations is correctly identified. A T chart is often used for educational purposes because it is easy to absorb the provided knowledge. There are so many examples of T charts. Let us see each in detail.
Sample T chart template format in Google Docs
Double T chart template format in Google Docs
Note-taking T chart format in Google Docs
Compare and Contrast T chart format in Google Docs
Sample T chart template format in Google Docs
Here I give you an example of a T chart of iPhone vs Android phone
| | |
| --- | --- |
| I phone | Android phones |
| Hard to repair More expensive Very High quality | Easy to repair Less expensive High quality |
Double T chart template format in Google Docs
The double-column T chart is used to write three items either to differentiate or to contrast between them. Can be used to demonstrate about three things. T charts are extensively used in education and teaching others, we can learn how to do it from this example. In this example, we have distinguished mean, median, and mode.
Topic: Average
| | | |
| --- | --- | --- |
| Mean | Median | Mode |
| Add all values and divided by the total number of values | Middle values in a list of numbers | Value that occurs mostoften |
| Example: 7,13,5,7,10,5,5Ans: 7.4 | Example: 7,13,5,7,10,5,5Ans: 7 | Example: 7,13,5,7,10,5,5Ans: 5 |
Note-taking T chart format in Google Docs
The note-taking T chart is useful for its note-taking abilities. A student can easily write a subject in one column and take notes for the respective subject in the next column or you may demonstrate anything as you wish.
Name: Date:
Topic:
Compare and Contrast T chart format in Google Docs
When you compare and contrast people, places, objects, you are looking for how they are alike and how they are different. The best way to organize your ideas is to use a T chart.
Differentiate
Ways in which they are alike:
Ways in which they are different:
The above are a few examples of T charts and you can make use of them.
You may also like following the below articles
And That's it. After going through this article on what is T chart is and How to make it in Google Docs? For sure you have learned everything. Go ahead and try to create your own T chart template easily by using the above steps.